Annual Plan 2020/21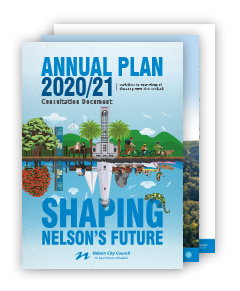 Council's Annual Plan 2020/21 covers the period 1 July 2020 to 30 June 2021 and will outline what Council plans to do differently in 2020/21 to what it approved in the Long Term Plan 2018-28 ('LTP'). It is known as an exceptions document and contains changes to Year Three (2020/21) of the LTP.
A Consultation Document has been prepared to outline key proposed variances for 2020/21, and comes with a document of Supporting Financial Information (915KB PDF).
We want to hear what you think about what we have proposed in the Consultation Document (10MB PDF). Get involved!
The Consultation period runs from 17 March to 5pm 17 April 2020. Please note that due to COVID-19 the process for the Annual Plan given may change, including that public hearings in the Council Chamber may not be possible. We will keep you updated as more information comes to hand. All submitters will also be contacted.
Public hearings are scheduled for 5 and 7 May. Council will deliberate on submissions on 26 and 27 May. The Annual Plan 2020/21 will be adopted by Council on 25 June 2020.
Annual Plan 2020-21 Consultation Document (10MB PDF)
Printable Submission Form (70KB PDF) Make an online submission
Supporting Information
Additional Information